I saw the email from Google saying I had a new review on Stupid Aliens…"Oh no", I thought…My first review EVER for a game I built and love. I opened the email and clicked through to the app store to read the review and was greeted with this!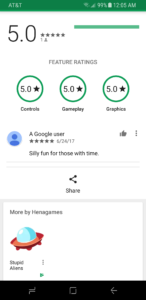 My very first review, and its a 5-star review! Thank you 'Google User' for leaving this review, it seriously made my day! I know that not all reviews are going to be this way, so for the moment, I am going to enjoy the time that Stupid Aliens is rated 5-stars on Google Play!
Get Stupid Aliens for free now!